Written by Nandagopal Rajan |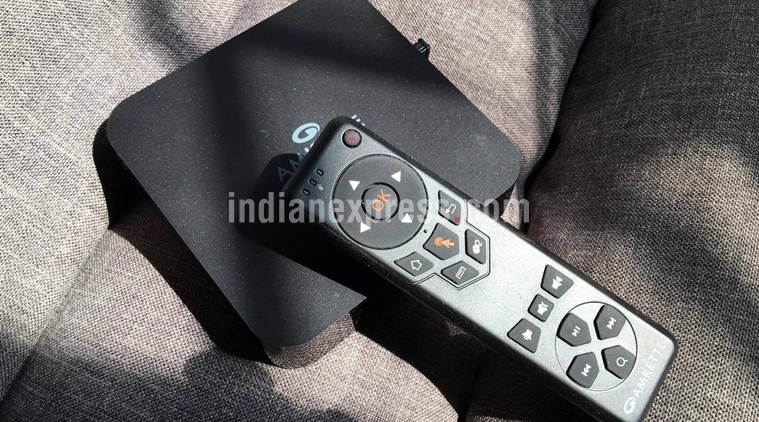 One confession before I start this review. I have always thought that the Amkette EvoTV, at least the first one, was among the best hardware products to come out of India. And after having bought the first unit, I have tested and been impressed by every version that succeeded it. Four years on, I still happily use the first generation device which does a good job making my flat screen really smart.
Amkette EvoTV 2
When it comes to looks the EvoTV hasn't changed much except for a dash of colour on the box. The remote, which was one of the best features of this device, has sure changed, in a way festering its own ambitions of becoming a game controller. It has lost a bit of flourish from the first version but is still very practical and more importantly functional.
Price: Rs 6449
Specs: Cortex A5 1.6GHz process with ARM Mali 450 | 1GB DDR III RAM | 8GB ROM | Optimized Android 4.4 (Kitkat) | 4 USB ports | SD/MMC Slot | 802.11b/g/n | Bluetooth v4.0 | Ethernet | HDMI | Composite A/V | Coaxial | 5V – 2A Power
What is good?
Unlike the first EvoTV, the latest version is almost pure Android. So for a new user there is absolutely no learning involved. You will use this like you will use an Android phone or tablet, and all of us are very adept at that.
Since it is skinned like an Android tablet, it is also very stable. The screens don't stutter or stall when you swipe, you come back to the home screen in a jiffy from apps and running multiple apps at the same time is not big deal.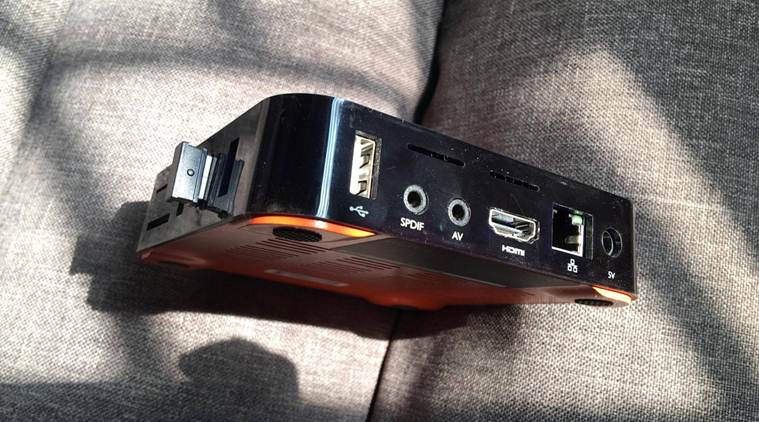 Amkette EvoTV 2 has lost a bit of flourish from the first version but is still very practical and more importantly functional.In fact, the overall performance is very stable as well as nimble and you will be able to do pretty much everything on this device. In fact, I downloaded a few episodes of a new TV series directly on the box, which has about 8GB of internal storage, and watched them using the UTorrent app itself. It was a great experience and this is actually cheaper as the box consumes less power than a PC.
The EvoTV 2, like the earlier ones in the series, is a great entertainment rig. And at the end of the day, that is what I will use this primarily for. So you can watch content from YouTube or an external storage device like before. But you can also stream directly to the box from Netflix or any other OTT app. In fact, I don't think there is any other such device that has HotStar for instance and this could be a USP to woo a certain demographic.
The Evo Air Remote is still great, though it does not come with the gaming options. However, it lets you switch off the air features now and just use it as a simple remote with cursors. This has its advantages, though it takes a while to get adjusted to the buttons.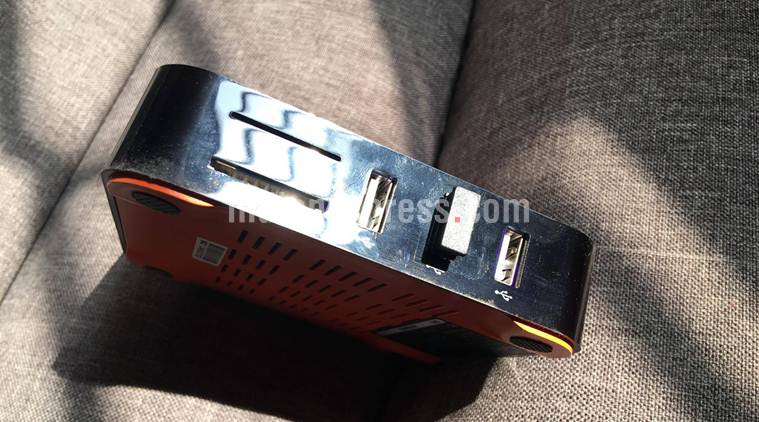 The Amkette Evo Air Remote is still great, though it does not come with the gaming options.You can now use Bluetooth headsets with this device. A great feature when you consider that fact that HotStar will be beaming a lot of late night football matches which others in the house might not be really interested in.
What is not so great?
It is a bit difficult to switch between apps, and maybe a swipe through option would be great to cycle between screens.
On my old EvoTV, I actually use the Swype keyboard with the Air Remote to type really fast — I have even composed emails on the 42-inch TV. While that might not be a real use case, I doubt if it is a great idea to make the keyboard accessible only with the cursors. It is a painful process searching stuff this way, especially since there is no mic on the remote for voice search like before.
Should you buy
Given that there are cheaper streaming devices in the market at the moment, this makes sense only for those who will use the device to its full potential. So buy this if you are hooked to Netflix or HotStar (or any other OTT app) and now watch it using a really cumbersome rig from the phone or directly on the small screen. This is also a great option for those planning to have a good entertainment set up in their living room.