Get. Set. Game
Evo Gamepad Pro 4 for Android Smartphones

Play Practically Any Game

Zero Lag Connectivity

Instant Play for Android
Regular price

Rs. 1,849.00

Regular price

Rs. 2,599.00

Sale price

Rs. 1,849.00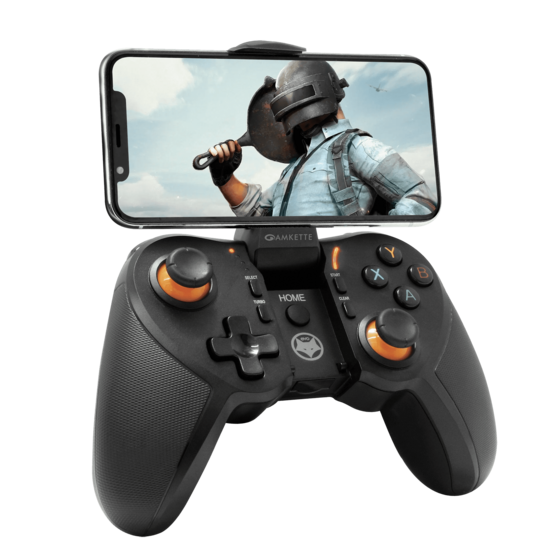 FAQs
Q What's In The Box

1 Evo Gamepad Pro 4
Micro USB Cable
Quick Start Guide
User Manual
Q. How to setup the Gamepad with the Phone?

A. First time setup can be a little tricky, So please read all the guides, visit the blog, go to YouTube. If you need help – WhatsApp us. We are there to help you. Some suggestions: – Please keep the HOME button of your phone towards the right. – Aiming Control can take time to get used to – so Practice Hard! – But Moving, Jumping, Scoping, Shooting and more will set you apart. Just some of the advantages: – Running, Moving, Jumping etc is much better with a Joystick – You can Jump, Aim and Shoot at the same time – You can Move, Aim and Shoot at the same time – You can Peek, Aim and Shoot instantly and much much more! (Please Note: Sensitivity of the gamepad can be manually adjusted, according to your play style).
Q. What is Instant Play Mode on Android?

A. Instant Play lets you configure and play nearly any game – Instantly *Works with Snapdragon, Kirin, and Exynos. Play games like: BGMI, Free Fire, Mobile Legends and much much more.
Q. Does it work with iPhones?

A. No. The gamepad doesn't support iOS devices.
Q. What is HID / Native Mode on Android?

A. If the game you want to play already has Native Game Controller support you can configure the Device accordingly. The Native / HID Mode works on ALL Android Phones. Does NOT working on iPhones. Play games like: Ashpalt 8 / 9, Minecraft, GTA Vice City, Limbo, 100's more – Download the Evo Gamepad App from the Google Play Store for the full list.
Q. What Games will work with the EVO Gamepad Pro 4 on my Device?

A. For Android devices the Games which can be played in instant play mode is compatible. For Better Gaming experience and more Fames, Please download 'Shootingplus V3' App.